Kinks mailing list Digest, Number 2068, Thursday, 10 July 2003

Today's Topics:
Ding dong ["Rob Kopp" <rob.kopp@xs4all.nl>]
Some time ago I asked on the KPS "Does Ding Dong ring a bell to someone?"
There was a reason to ask that question.

Some time ago a Dutch Kinks-fan received an MP3 from an American Dave Berry fan called Ding Dong. It should be a song from an acetate by The Ravens. As there were some doubts about this (the acetate is not mentioned in Doug Hinman's Kinks-bible) the song was sent to Doug as well. Although Doug didn't know about the song, he was almost convinced that the singer was Dave Davies. Another reason to think the song could be by The Ravens could be the fact that the guitar riff was similar to the one of One fine day, one of the first Dave-compositions, that was covered early 1964 by Shel Naylor (it remains one of the best Kinks-covers ever). For those who have never heard that cover: it's a descending riff like the one of Hit the road Jack by The Stampeders (featuring Wolfman Jack).
So according to Doug Hinman it could well be The Ravens. Was it wishful thinking?

I'm busy with a new book about Dutch beat from the 60's and suddenly my eyes fell on a single by Dutch Indorock-band The Crazy Rockers:
Giddy up (a ding dong) / Rosita my love (Delta DS 1070, Holland 1963).
As "Dave" is also singing Giddy up a ding dong, I though a little investigation was the least I could do. I converted the MP3 to a WAV-file, put it on a CD
and went to recordshop Da Capo in Utrecht, the best shop in the world! Owner Michel Terstegen was on holiday, but I played Ding dong to Michel van der Woude and another guy I had never seen before. They were very helpful. The new guy said he had heard a song like that before and started to look if he could find it. And he did! He came with a copy of English freakbeat vol. 4 (Archive International Productions AIP 10051, USA 1989).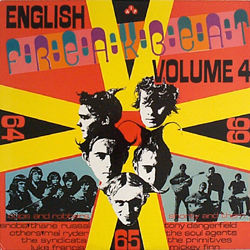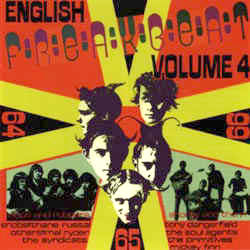 LP CD
Track 7 (the last song on side 1 of the LP) is Ding Dong by The Snobs. We put the record on to see if it was the same song and to our surprise it was EXACTLY THE SAME VERSION as the one that should be by The Ravens! I couldn't believe my ears!
It has happened before that a Kinks track was released under another name, like The Muswell Ravens on the LP Searching in the wilderness, so that didn't prevent
me from buying the album (you never know). The sleeve notes say: "Done up in 17th Century attire, powdered periwigs and all, these boys had a minor hit in '64 with Buckle shoe stomp, but their piece de resistance was a Swedish-only 45 coupling a fine version of Heartbreak Hotel with this gritty stomper, much better known in its later hit rendidion by The Equals".
Da Capo also had a Spanish album by The Crazy Rockers with Giddy up. The sleeve was in Spanish, but fortunately Freddie Bell & The Bell Boys wasn't translated. The song is written by Bell-Latfanzi.

Back home I looked in several books:
- The original by Freddie Bell & The Bell Boys is named in the "Record Collector Rare Record Price Guide 1995" and also in "Der Grosse Single Preiskatalog Rock & Pop 1996": Giddy up a ding dong / I said it and I'm glad, Mercury MT 122 (UK, 1956, 78 rpm), Mercury 45-694 (Denmark and Sweden, 1956)
- According to the "Music Master Tracks Catalogue" Giddy up a ding dong is done by Freddie Bell & The Bell Boys, Equals, Sensational Alex Harvey Band
and Tommy Steele.
- The book "British Beat" says about the Snobs: Quartet - personnel unknown. Little is known about this band save that they released one tremendous single,
Buckle shoe stomp / Stand and deliver (Decca F 11867).

and on Internet: "The Tapestry of Delights"
Personnel: John Boulden, Eddie Gilbert, Colin Sandland, Peter Yerral.
45: Buckle Shoe Stomp/Stand And Deliver (Decca F 11867, 1964).
This band wore buckled shoes and powdered wigs to deliver Buckle Shoe Stomp which had a pounding beat and raucous vocals. The group achieved a wider audience in Scandinavia than here; they were very big in Finland! They relocated to Sweden where they issued a further gritty 45, Ding Dong / Heartbreak Hotel. Compilations:
- Buckle Shoe Stomp, Stand And Deliver on The Garage Zone, Vol. 2
- Buckle Shoe Stomp on Sixties Lost And Found, Vol. 2 and Pop Inside The '60s, Vol. 2
- Ding Dong on English Freakbeat, Vol. 4
- Heartbreak Hotel on Searching In The Wilderness.

What? Searching in the wilderness? I have that album!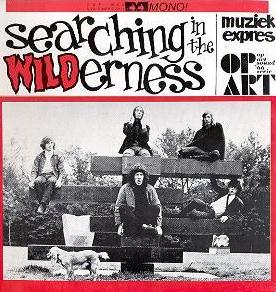 It's also named in Doug's book (page 452) because it has a song by The Kinks under the name Muswell Ravens. Sleeve notes of the LP: "The ridiculous outfits the Snobs popularized (?!!) do nothing to detract their spirited approach to raving-up anything from Buckle Shoe Stomp to Heartbreak Hotel. Enjoying most of their admittedly limited success in Sweden, this 1965 release features an awasomely live, wild sound. A video of an appearance on the Red Skelton T.V. show in late 1964 has reportedly survived, rekindling Snob-mania amongst those already in the know. One could hardly do worse than to join them!"
I played the song Heartbreak hotel and without a doubt the singer of Heartbreak hotel is the same as the singer of Ding Dong.
Does this mean we suddenly have 2 (!) new Ravens tracks?
At this point I thought: If that Swedish single exist, it must be The Snobs. If it does not exist, it can be The Ravens.

The story so far was the situation one week before the 6th Kinks fan meeting. I asked the other organisers if this story could become an item during the meeting
and ofcourse it could. I told the others that I would try to find out if that Swedish single existed. You never know with liner notes on bootlegs. It could well be that they're just making up a story. I couln't find the single in any price guide I have (they only mention that Buckle shoe stomp-single), so I contacted Belgian garage-collector Koen Goossens (Maybe you remember his name from my Kinks-covers-contributions. Koen has sent me a lot of garage versions).
He emailed me back the same day: "That Swedish Snobs single DOES exist: Heartbreak hotell (sic) b/w Ding dong (Decca F 44419).
It's very rare indeed. You can count on 150 Euro for a mint copy. So no Kinks connection. That should have been great, 'cause it's two killer versions. Anyway, you can verify all this on the scan". Included was a JPG-file of the sleeve (in black and white).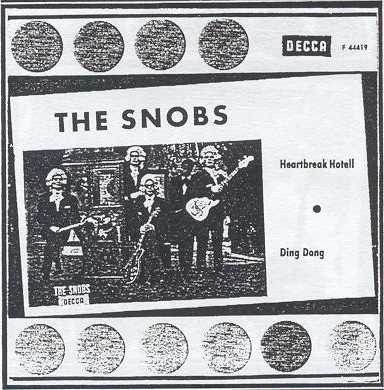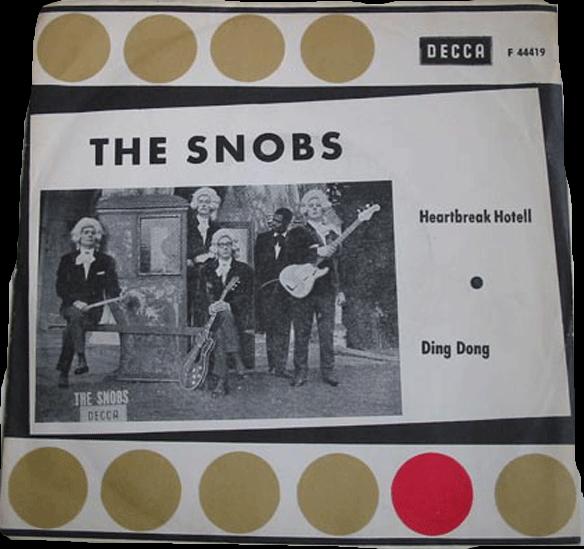 (Much later Mats Larsson send me an email that he had Snobs-site: www.buckleshoebeat.hagen.web.surftown.se with the sleeve in colour)
This was 2 days before the fan meeting. How I wish Koen had told me the single did NOT exist!
I decided to tell the story anyway, but as I can't imagine that a Ravens acetate has been issued officially by a wellknown recordcompany like Decca I ended my story during the meeting with a bit of an anti climax: Too bad it's probably just The Snobs and not The Ravens.

But after the meeting there were some new developments. The Dutch fan who had given me Ding dong had emailed my Snobs-story to his provider, that American Dave Berry fan. His answer:
- Ding dong comes from a one-sided acetate
- He knew The Snobs personally (he said he was busy with a CD with their complete recordings) and The Snobs had assured him that they NEVER had recorded Ding dong.

I simply just don't know what to believe anymore.
Maybe some of you KPS'ers know more? Maybe Pete Quaife can confirm if The Ravens have recorded Ding dong and/or Heartbreak hotel?

I'll try to put the scan of the sleeve of the Snobs-single and MP3's of Ding dong and Heartbreak hotel on my website so everyone can have a look&listen, but that won't be before this weekend, so you'll have to be patient for a couple of days.

To be continued...?
---
Kinks mailing list Digest, Number 2069, Friday, 11 July 2003

Today's Topics:

Re: A question for you : Ding dong [Pete Quaife]
Betr: Re: A question for you : Ding dong rob.kopp@xs4all.nl]

From: Pete Quaife
Subject: Re: A question for you : Ding dong

Anyway, yes I have heard of this Ding Dong acetate and I can honestly say I do not remember doing anything like that at Regent Sound. That the record(s) were released on Decca makes it all the more implausible - we never recorded for Decca. However, it would be a GREAT help if I could hear these songs. I could easily recognise any of our voices - even if it was from the middle of the last century! Let me know Rob's website where I can listen to these recordings and maybe we can finish this for once and for all.

ps. We have never recorded 'heartbreak hotel'.

reeegards, PeteQ
-------------------------

From: rob.kopp@xs4all.nl
Subject: Betr: Re: A question for you : Ding dong

Dear Neil and Pete,

Neil and Pete: both thanks for your quick reactions.
This is what I was hoping for. I guess WHEN Ding dong is done by The Ravens, Dave and Pete are the only future Kinks-members playing on it (Maybe Ray is as well, but Mick surely isn't in '63). As I don't think Dave would take the time to answer such a question, I'm glad Pete does. I really appreciate it.
I can imagine we'll get some speculations about Ding Dong on the mailing list. The only answer that will matter to me is Pete's. Even Doug Hinman was almost sure it was Dave who is singing. After my mail he isn't that sure anymore (he has sent a reaction as well).

Anyway: I have an MP3 of Ding dong. I still have to make an MP3 of Heartbreak hotel, but when I'm reading Pete's answer, that is of no importance anymore. I'll put the MP3 of Ding dong on my homepage coming Saturday.

You can find my homepage when you search for KOPP POP PAGE
You can also find it in the Links-section of Dave Emlen's excellent Kinks Web Site.

Pete: I'm looking forward to your reaction when you've listened to Ding dong.

All the best to both of you,

Rob Kopp

[I sent this info to Pete along with Rob's website URL: http://www.platenclubutrecht.nl -Neil]
---
Kinks mailing list Digest, Number 2070, Monday, 14 July 2003

Today's Topics:

Ding dong ["Rob Kopp" <rob.kopp@xs4all.nl>]
Re: Ding dong [Pete Quaife]

From: "Rob Kopp" <koppr@worldonline.nl>
Subject: Ding dong
Date: Sat, 12 Jul 2003 20:27:41 +0200

I've made a Ravens-page on my homepage http://www.platenclubutrecht.nl with MP3's of Ding dong and Heartbreak hotel
and the sleeves of English freakbeat vol. 4, Searching in the wilderness and the Snobs-single so everyone can have a look and listen.
Look forward to your reactions.

Rob Kopp

--------------

Date: Fri, 11 Jul 2003 11:28:16 -0700 (PDT)
From: Pete Quaife
Subject: Re: Ding dong

Rob.
Last night I heard the questionable 'Heartbreak Hotel' recording and I can definitely assure you that it is NOT the Kinks or Dave Davies. Yes, there are phrases and tones that mimic Dave but it is NOT Dave. Abso-fu*king-lutely NOT! I look forward to hearing the Giddy Up recording which I should be receiving shortly. I will let you know my decision then.

Regards, PeteQ

<sent later>

Ok....! Here it is! For once and for bloody all! I have listened now to BOTH Heratbreak Hotel and Ding Dong. I can now state EMPHATICALLY that NEITHER one has anything to do with the Kinks. Not as the Kinks, The Ravens, The Boll Weevils, The Ray Davies Quartet or any other name. I admit that the voice is very Dave Davies but HE'S SINGING IN TUNE! THAT should have been your first clue that it wasn't Dave! Also the guitar work, the bass playing and the drumming is so out in left field that we would have been ashamed to have finalised the demo. No, it is NOT the Kinks - in any shape or form. And I swear this on my Lawyer's deathbed!
Yours in hope that this will shut everybody up,

Peter Quaife.
---
Kinks mailing list Digest, Number 2071, Tuesday, 15 July 2003

Today's Topics:

Ding Dong [Jim Henning <J-Henning@neiu.edu>]
Ding Dong DANG! [Marianne30@aol.com]


Date: Mon, 14 Jul 2003 14:09:05 -0500 (CDT)
From: Jim Henning <J-Henning@neiu.edu>
Subject: Ding Dong

"Ding Dong" sounds like Mike Smith of the Dave Clark Five to me, or somebody trying to sound like him. "Heartbreak Hotel" sounds kind of like on of the early incarnations Spinal Tap. :)

[On Dave Davies' message board, he emphatically denies having anything to do with the two tracks. - Neil]

----------------------------------------

From: Marianne30@aol.com
Date: Mon, 14 Jul 2003 13:50:47 EDT
Subject: Ding Dong DANG!

This is really REALLY a tough one!!! I agree that Heartbreak Hotel is NOT Dave Davies, but I SWEAR the vocals on Ding Dong (and what a godawful song that is!) are SO Dave, it is hard to imagine anyone else in the universe singing like that. The guitarist does not sound Dave at all -- too Travis Wammack style. Drums sound Bobby Graham though! Is it possible that Dave did some demo vocals without the Kinks????

I think the way to clear it up is to hear any further vocals by the Snobs. Anyone got an MP3 of Buckle-Shoe Stomp?

Marianne
---
the Dave Davies Message Board: Q & A with Dave Davies: Dave: IS THIS YOU?? <!-post: 35776-!>
<!-/icons-!>By Marianne Spellman (Marianne) on Monday, July 14, 2003 - 02:08 pm:
Dave, there is a huge controversy in Kinks-land at the minute over an acetate that has surfaced that sounds SO much like you, it is amazing. Pete Q. says no, what do you say? Take a listen!

http://home-3.worldonline.nl/~koppr/index.htm

Dying to hear!,
Marianne <!-/post: 35776-!><!-post: 35777-!>
<!-/icons-!>By Sharon (Katieanne) on Monday, July 14, 2003 - 02:13 pm:
Hey Marianne, we're talking about the same thing in the first 2 solo albums thread. I dunno, Pete sounds rather extremely sure it's not... mainly because the playing is very sloppy and the singer is singing in tune, gulp. But boy his voice does sound like Dave's. I dunno, I don't hear the cockney accent either though.

~Sharon~ <!-/post: 35777-!><!-post: 35784-!>
<!-/icons-!>By Dave Davies (Dave) on Tuesday, July 15, 2003 - 09:55 am:
You cannot be serious. Guilty before proven innoncent eh? No and No. Straight in the trash WITH IT!.

THANKS
DAVE <!-/post: 35784-!><!-post: 35785-!>
---
Kinks mailing list Digest, Number 2072, Wednesday, 16 July 2003

Today's Topics:

Ding Dong ["Peggy Wedding" <pwedding@xs4all.nl>]

From: "Peggy Wedding" <pwedding@xs4all.nl>
Subject: Ding Dong
Date: Tue, 15 Jul 2003 19:21:28 +0200

I'm glad we don't have to speculate about Ding dong and Heartbreak hotel anymore. No Ravens or whatsoever. I fully believe Pete Quaife.

Rob
---
Perhaps I can help you with your questions regarding The Snobs.
Following the mild sucess of Buckle Shoe Stomp/Stand and Deliver In Scandinavia, early 1964 and a sucessfull tour of Sweden and Denmark in the autum that year, Decca were keen to keep the ball rolling and supplied the band a "demo" made by a group which sounded very much like The Rolling Stones, playing Giddy Up A Ding Dong, which they wanted them to record.
The Snobs countered by giving Decca a tape of them doing Love Potion Number Nine, which they had recorded in Garry Paxtons studio in Los Angeles in April that year.
All of The Snobs and especialy the drummer thought that Giddy Up A Ding Dong was crap and L.P. No. 9 was a winner (The Searchers proved us right a couple of months later) Decca had all the cards however and as was normal for the next twenty years, they got what they wanted,
The drums on this recording were overdubbed as Eddy Gilbert, the Snobs drummer was unable to give them the sound they wanted,due to shortage of tallent and severe lack of enthusiasm.
I am very confident of my facts as I was the drummer with The Snobs from conception to demise.
If you want to hear Buckle Shoe Stomp/Stand and Deliver, visit the "British Pathe" movie site, type in "The Snobs" and you can watch and listen at the same time.
---
Sent: Saturday, August 14, 2004 12:41 AM
I was a member of the SNOBS
I was the lead guitar and lead singer
Buckle Shoe Stomp ( Sandland Boulden Spencer) #2 in Sweden
Stand and deliver ( Sandland Boulden)
Did the Red Skelton TV Show April 1964If you need any more info
T H I S I S T H E L A S T T H I N G A B O U T T H I S M A T T E R, U N L E S S T H E R E A R E N E W D E V E L O P M E N T S
---
When the singer of The Snobs sounds like Dave, the singer of Dutch band Weetjewel sounds like Ray.
Weetjewel (Dutch for the stopword "You know") was a band from my hometown Utrecht with only one single:
Lila lovin' Lola / The chronical irresistable popcult illness (Omega 35.781, The Netherlands 1967).
The a-side has a couple of Kinks-connections:
- The music is based on Sittin' on my sofa
- The text is already about a Lola
- The singer sounds more like Ray Davies than Ray Davies himself, especially in "Now's the time to prove that I'm a super sexy fella indeed"
The b-side with it's funny title has no Kinks-connections at all.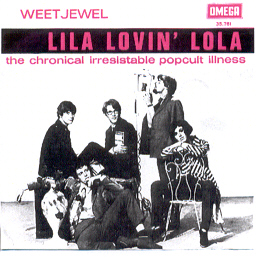 Back to PLUT page (website of Platenclub Utrecht) or to KOPP POP PAGE (homepage of Rob Kopp)
---